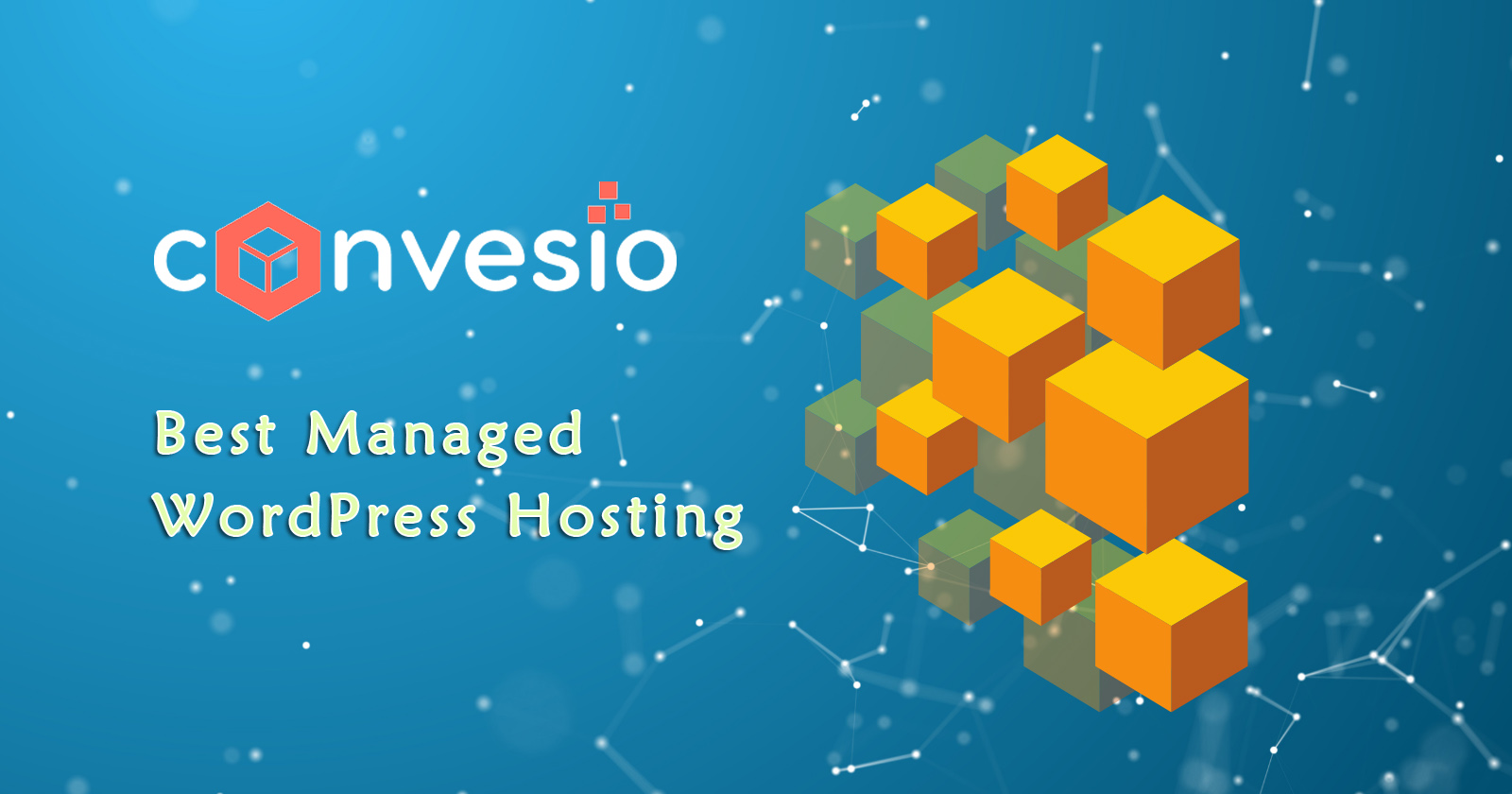 Convesio managed WordPress hosting is a newcomer to the web hosting scene. They provide a full range of services for WordPress websites. Convesio is not just another hosting provider. Its infrastructure was designed from the ground up for hosting high-performance, scalable WordPress sites.
Convesio makes complicated server installations very simple, affordable, and powerful. You can set up a WordPress site in a few minutes with great loading time, a database cluster, and a redundant file system!
So, remove the load of server management, security, performance, and uptime monitoring from your desk. And you can sit & chill and do all these works Convesio for you.
Start your WordPress blog or business today, hosted on Convesio and they will guarantee to make your site 100% uptime with comparing to other hosting services.
Convesio is the future of WordPress hosting and optimized for it. It's designed for bloggers and companies who want to focus on operating their site rather than worrying about upgrades, backups, and other technical details.
How Convesio Works?
Shared Hosting

On shared hosting, you will host your website on same server, which is also using by hundereds of other websites.

VPS & Cloud Hosting

On VPS & Cloud hosting, you will get your own dedicated server to host websites. It will not shared with others.

Convesio Hosting

Convesio will deploys websites to Docker containers with their own dedicated resources. It will work on pay-per-use.
Get Exclusive Discount on Convesio Hosting
WordPress Hosting for Startups
Convesio is the next generation of WordPress platforms. It is the Future of WordPress Hosting that is based on docker containers. Using the Docker Container technology, Convesio distributes your traffic across multiple instances of your WordPress site enabling both high availability and true horizontal scaling.
Docker-based solution

Convesio works on docker based container and wordpress will take minimum 9 container to runs the wordpress website.

True auto scaling

Convesio automatically scales up when you need more resources and down again when you don't.

Resilient by design

Components of the stack are hosted in different containers. If one fails it is redeployed instantly .

Very fast

Docker containers are very efficient and our stack has been designed to minimize bottlenecks.

SysAdmin-free

Convesio admin dashboard is very easy to use. You don't have to be technically minded to set up auto scaling.

Pay-per-use

No need to plan for peak usage and buy the most expensive option. Auto scaling means you just pay for what you use.

24/7 pro-active support

Convesio will give you 24/7 support for anything you have queries or want to solution of any problem.
So, if you are thinking of startup your business, you should definitely go with Convesio startup plan. The startup plan starts with a very low cost only $50 a month with enterprise-grade performance.
So Convesio is the best hosting to managed wordpress and it also has a simple and very easy admin dashboard to use and if you have any queries then you can contact convesio support, they provide 24/7 supports.
In the startup plan, you will also get FREE SSL certificates and a Daily backup tool for your website data. They also allow you to secure your dashboard and all data with Two-Factor Authentication.
Convesio WooCommerce Hosting
Convesio is designed to handle a large amount of traffic so you can easily build your online woocommerce shop and add as many products as you want. It will never go shut down when a large amount of traffic comes.
Handle High-Volume WooCommerce Transactions
WordPress is hosted in Docker containers, which have dedicated resources similar to a VPS. Additional containers are automatically deployed when more resources are required to distribute the load and keep WooCommerce running smoothly. Containers may be implemented on physical servers as well.
Set up auto scaling in under a minute
Integrated with CloudFlare Enterprise
Page load times remain fast even large amount of traffic
WP Admin is fast too, so you can quick update your SKUs
Only pay for additional resources when they are needed
WooCommerce Hosting Plan and Features
Convesio woocommerce hosting plan is a complete solution for supporting large-scale WooCommerce stores. You will get this plan for only $150 a month and the following features included.
10 GB Storage to cales up to 10 containers, so 10X the plan's specs
2 GB Memory and 4 vCPU/Single Thread
Choice of server and database types
Integrated Enterprise Cloudfare and SSL Certificates
Advanced page speed optimization
24/7 priority support via email, chat and a private Slack channel
Managed WordPress security with automated malware scanning
Handle multiple orders per second
Enterprise WordPress Hosting
Enterprise WordPress hosting doesn't mean to have complex, expensive, and high maintenance. It is scalable, fast, and redundant by design.
Convesio is the only WordPress hosting provider that provides full auto-scaling, self-healing, and zero single points of failure.
Simplicity: The same method may be used for personal blogs as well as high-traffic eCommerce sites.
Security: Malware scanning, cleaning, and vulnerability patching are all done on a regular basis.
High-Speed: Convesio performance consistently outperforms that of our competition.
Microservices Approach
Layered Architecture
True Horizontal Scaling
No Single Point of Failure
Multi-Node Design
The price of Convesio Enterprise hosting is depends upon your need and requirements. You may ask from support team, they will give you a quotes. So start immediately to host on best managed wordpress convesio hosting. Take a 30 days free trial from the below link.
Architecting WordPress Scalability
Convesio overcame the difficulty of operating WordPress in a high-availability environment by combining free source software with proprietary technology.
Its scalable WordPress hosting has been deployed on Google Cloud, AWS, Steadfast, and OVH with great success.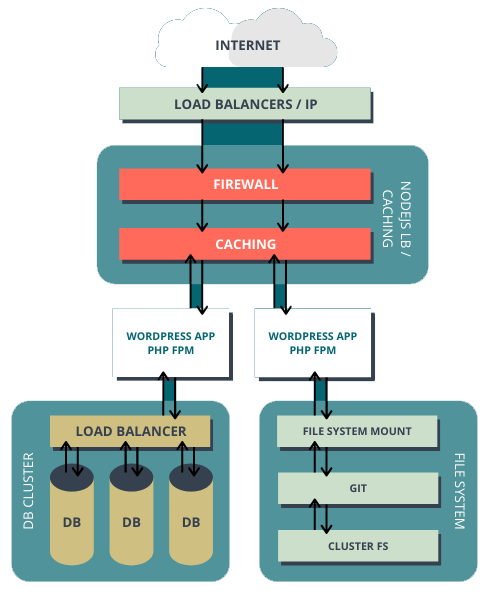 Components of propriety are:
Node.JS Load Balancer & Firewall
Custom Caching Layer
File System Mounts
Micro Caching for GlusterFS
Convesio also has integrated Cloudflare's Enterprise features to increase performance and add a second layer of security before a request even hits our servers.
How does Convesio use the Docker platform to manage WordPress?
Convesio Managed WordPress Hosting is the only web hosting provider that uses groundbreaking Docker technology. Docker is a Linux container that allows you to execute your own programs. Although these containers share the same operating system, they each have their own area.
It's similar to how all apps on your smartphone share the same CPU and hardware. The wonderful part is that each website is really a mini-program that can be optimized for your container.
This makes removing bloat and clearing out undesired residues of previous installs a breeze. It may also be fully tested prior to installation.
It should work on any cloud architecture that supports Docker if it works well on one cloud architecture. You can make modifications to a replica of your original container while it is still online.
You'll only consume resources when they're needed in the Docker environment, and your container (or website, in this scenario) may be relocated to a quicker, bigger cloud hosting provider in minutes.
Your hosting provider may also relocate its clients to another cloud server, such as AWS, Azure, or Google Cloud, in a couple of minutes.
This is a more interesting strategy than using a VPS (Virtual Private Server), where you'd have to set aside a set amount of processing power, memory, and storage for each website.
They built their infrastructure from the bottom up to support scalable, high-performance hosting. They are the only hosting company that works with Docker technology.