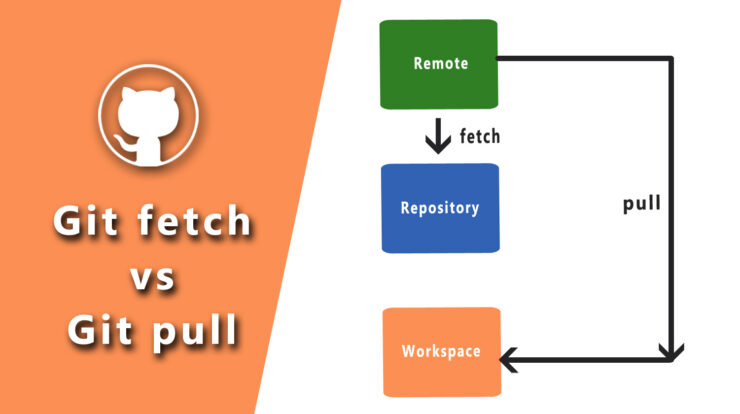 Git fetch and Git pull are two git commands used by git users for different purposes with the repository. As you know Git is a version control software to track your file changes. It keeps your files changes safe in the repository.
There are many commands like git init, git commit, git status, git config, git branch, git checkout, git fetch, git pull, git merge, git add., and git reset etc. You can check more here.
So, in this tutorial, we will learn about git fetch and pull. We will see, what is the main difference between these two commands.
Let's get started!
Difference between Git fetch and pull
Both commands are basically the same but there is a small difference between these two commands. The git fetch only keep the data up to date without merge with your local repository and the git pull merge while fetching.
Git fetch vs pull
git fetch: This command about to keep your local repository of the remote repository up to date.
git pull: This command get the copy remote repository with any changes to my local repository.
Let's describe both commands one by one and know the difference between git fetch and pull.
Git fetch command
The git fetch command can use any time to update the remote branches and it will fetch the latest data from the original branches. This command will not make any changes in your local branch.
It detects the changes are done in the remote repository or not. You should run this command before making any git pull request on your local branches.

When you will hit the git fetch, it will collect all commits to that specific target branch and store them in your local repo. It will not merge with your current branches.
If you want to further bring your changes from the local repository to your working directory then further you need to use commands are called git fetch git merge. Then you can merge all those changes into your local directory.
So as you know that now get fetch basically just bring the changes from the remote repository to the local repository. So there is no chance for any kind of conflict right.
The thing is that when to use git fetch if you want to check is there any operation that happens on the remote branch before pushing your change then git fetch is a very good command.
So, this command basically is used to keep updated the local branches.
Git pull command
The git pull command is used to get any changes from the remote repository and download them to your local repository. It will automatically merge and pull your commit into your local branches.
It will not let you know about automatically merge while pulling requests. This command will not give you a chance to review the changes before the merge, it does automatically and here conflicts can happen.
When you will hit the git pull command, it will fetch the data basically and also merge with any new changes. So, it will get the latest data with new changes from the remote repository.
The thing to keep in mind is that it will merge only into the current working branch other branches will be unaffected. So you don't need to worry about other branches.

So basically this command will bring all the changes from the remote directory to the local working directory basically.
This will basically do internally two things, git fetch means that will bring all the changes from the remote branch and merge to the local repository using the git merge.
While using this command, if your working directory has some changes and the remote branch has some changes in the same file and the same line then you may get some conflict.
I hope you understood the difference between git fetch and git pull. If you have queries about this please let me know in the comment section, I'll help you with that.