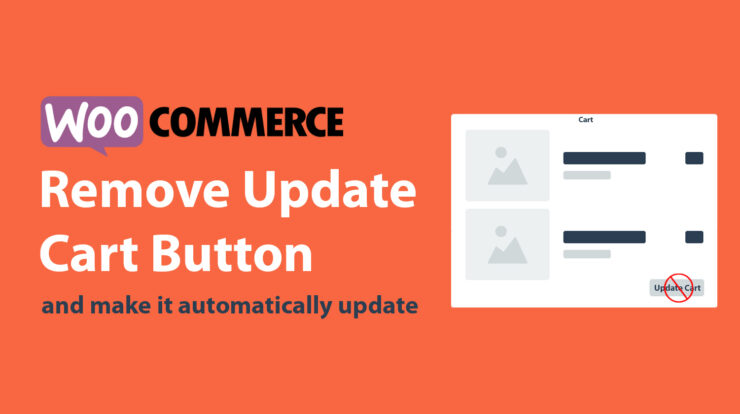 WooCommerce gives us by default functionality to update the cart with the button, but what do you think – would it be better if the cart will be updated automatically? Automatically mean when you change the quantity of a product then it will update cart subtotal automatically.
WooCommerce Update Cart Button on Cart Page
If you are experienced with woocommerce and you know how the update cart button looks like. This button has the purpose to update the cart page including total, subtotal, tax, shipping, etc when a customer has changed the quantity of product on the cart page.

See Also: How to Add WooCommerce Cart Icon in Menu with Item Count?
Remove the Update Cart Button
So, let's start to remove update cart button with just add a couple of lines of code in your .css and .js files OR your theme's functions.php file (I suggest to use child theme). It is easy to play with code and make a hook to do this.
Method 1 (Using .css and .js files)
In this method, we will use only .css and .js files that are connected to the frontend.
Follow these are the points to remove the update cart button:
Login into your cPanel account where you are hosting the website
Go to File Manager and open your website's folder
Open your active theme folder and find the style.css file
Add this below code in the style.css file

Look at this CSS code:

Save this file. And here I would like to tell you that, we will just hide or disable the cart button and we cannot remove this button because of some JS functions triggers with this button.

And the next step we will also trigger the event on this button while changing the quantity of the product. And you will see the auto-update cart page.
So, open your any .js file or custom enqueued .js file. And add this below jQuery code in the file.
NOTE:- You can also add above CSS and jQuery code in header.php OR footer.php file with using the HTML <style> and <script> tag.
After adding those couple of lines in their files, the cart page will work like this. You can see the page updating automatically.
Method 2 (Using functions.php File)
This is another way to do all thing in one single file. In this method, to remove the update cart button, we will use the theme's functions.php file. We will make a hook function to add all the above code in the Header OR Footer of the website.
As I already mentioned above you can also use the header.php OR footer.php file directly but here we will hit the wp_footer hook in the functions.php file to do this.
Look at this WordPress Hook –
Add this above function in your active theme's functions.php file and save it. And you are done!
Check the cart page and test with changing the quantity of product, you will see there is no update cart button now and the cart is updating automatically.
Add Some Delay to Update the Cart
So if you want to add some delay time in seconds to update the cart when you change the quantity of a product then you can simply use the setTimeout() and clearTimeout() jquery functions.
So simply replace the jquery code from the above action hook with the following code.
In the above code, I set the update cart limit delay after 3 seconds. You can use it as you want or any customization accordingly.
If you have any questions or stuck at any point, please ask me in the comment section. I would like to help you with that.
See Also: WooCommerce Automatically Add Product to Cart When Visit to Product Page